The Languedoc-Roussillon Wine Trail
Hit the road in search of the wines of Languedoc-Roussillon
These trails will take you through the Rhone Valley and the foothills of the Pyrenees. There are many different options, but each one takes you through some wonderful landscapes where the cultural heritage and architecture are as stunning as the natural beauty.
From the Middle Ages onwards, viniculture developed in what was then known as Occitania. The Roman Via Domitia, which connected Rome with Spain, saw the birth of the city of Nimes and the Pont du Gard, both of which are listed as UNESCO World Heritage Sites. The terrain is harsh, and was affected for a long time by the wine growers "revolution" of 1907. However, over the last few years, the wine growers have transformed the quality of the local wine, using high-quality grape varieties, reducing the amount harvested and setting standards through the creation of appellations d'origine contrôlées.
7This renewal has seen the four agricultural départements in France's southern Midi region produce a third of France's total wine production. Corbières, Fitou, Saint-Chinian, and Minervois Limoux are the regions' most evocative names, covering territory that extends from the Gard to the Hérault, from Pic Saint-Loup to the terraces of Larzac via Corbières, the marshlands of the Camargue and the Minervois. Roussillon offers us famous, naturally sweet wines including Rivesaltes and Maury and Banyuls Muscat. As you travel through the départements of Hérault, Gard, Aude, and Pyrénées Orientales you will encounter a great deal of variety, from full-bodied red wines to dry yet fruity whites and naturally sweet wines.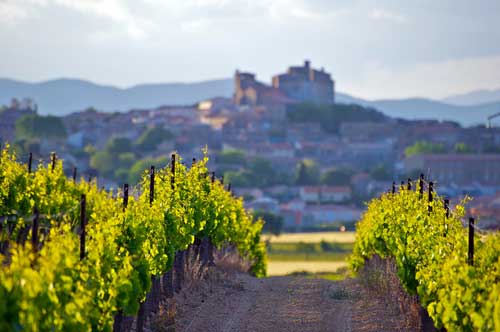 Weekends on the Languedoc-Roussillon wine trail